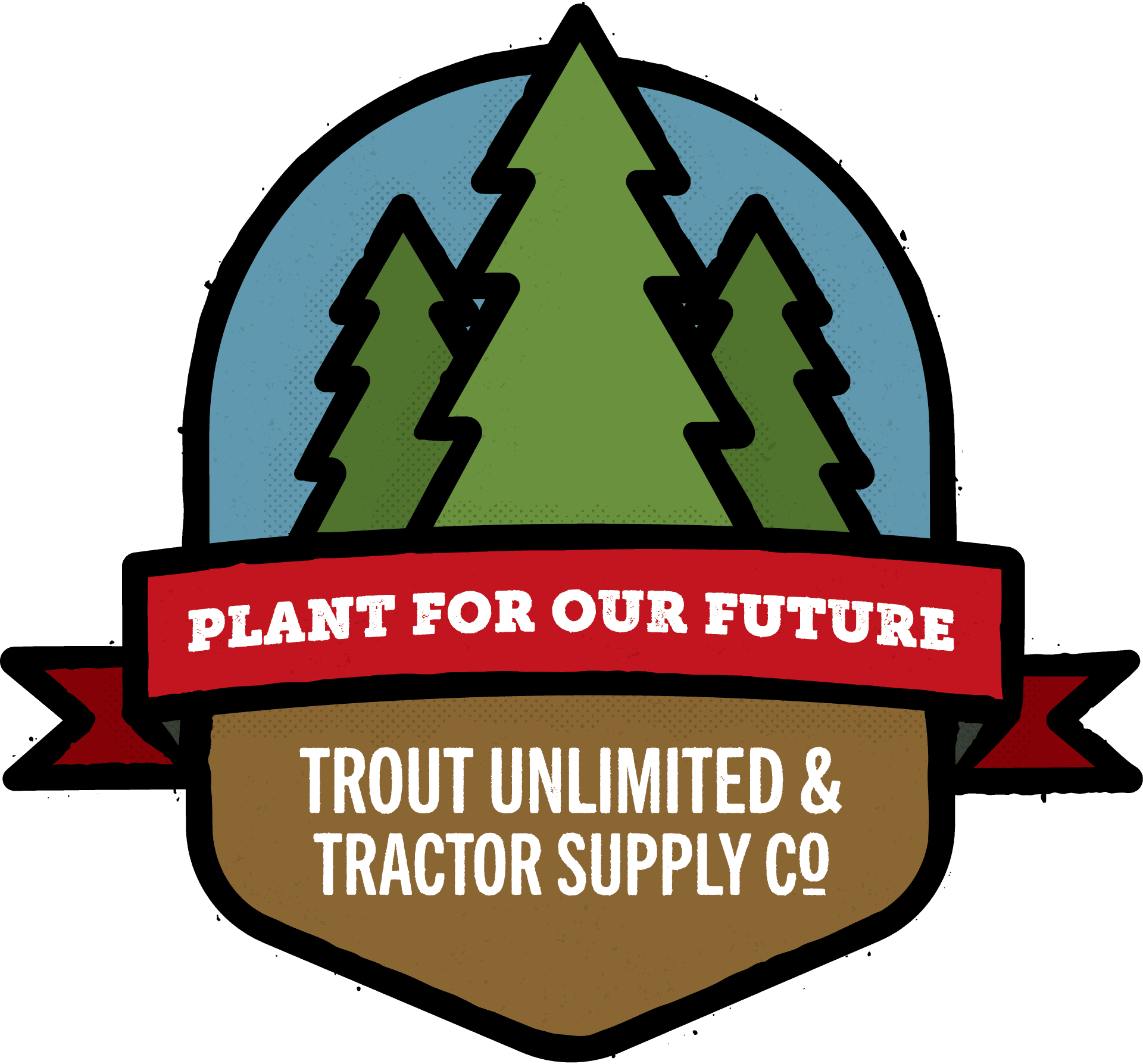 WHY THE "PLANT FOR OUR FUTURE" PROGRAM IS GOOD FOR THE FISH AND MITIGATING CLIMATE CHANGE
Articles written by Helen Neville, the senior scientist for Trout Unlimited, highlighted four salient reasons:
Each tree conserves water by capturing and storing rainfall in the plants and the ground, reducing polluted stormwater runoff.
Each tree can sequester up to 48 pounds of carbon dioxide annually, making tree planting a climate change mitigation powerhouse.
Each tree planted along a river bank – a riparian buffer – provides significant benefits. Their roots hold back sediment and prevent erosion, and their branches and leaves provide shade to reduce stream temperatures on hot summer days.
Each tree aids flood control, water and air filtration, and improving fish and wildlife habitat.
THE TRACTOR SUPPLY COMPANY PARTNERSHIP WITH TU
In a press release dated July 28, 2022, the Tractor Supply Company Foundation announced its investment of $ 150,000 over the next three years. The release stated that TSC's partnership with TU is intended to support its water conservation goal and its previously established commitment to reducing its carbon footprint to achieve net zero emissions by 2040.
TSC's support will enhance the depth and breadth of TU's "Plant for our Future" campaign by planting 25,000 trees annually.
WHAT TU MEMBERS AND CHAPTERS SHOULD DO
What better way to celebrate Earth Day, Arbor Day, and the start of Spring than to plant trees along a river in your Chapter's local community? The partnership with TSC offers TU chapters and members in New York many new opportunities.
People who are current chapter volunteers or TU members looking to become active in their local chapter can make a difference in their local community by participating in this national initiative.
If not already done, Chapter leadership should Identify a planting location at a community park or open space. Ideally, the proposed site will have high visibility as a way of meeting and recruiting new volunteers – many of whom may not know about Trout Unlimited and its mission.
Chapter leaders and members must complete the

Registration for a Special Plant for Our Future Training Webinar

on Wednesday, March 8, at 6 p.m. Eastern. The session will be recorded.
Chapter leadership should think about how to connect with their local TSC store manager. The purpose is to collaborate on the best means to promote the planting to store customers and the broader community, supporters, and partners. However, no one should contact a local TSC store before watching the training or recording. A designated chapter leader should also contact Jeff Yates

jeffrey.yates@tu.org

or Jesse Vadala

jesse.vadala@tu.org

for additional instructions or answers to questions. Also, visit

www.tu.org/plantforourfuture

When contacting a local TSC store, the chapter representative should ask permission to set up a table outside the TSC store with chapter volunteers one or two weekends before the planting event to recruit TSC customers to help as volunteers and to solicit donations for the community planting project.
Be sure to post the date, location, and time of the Chapter's Tree Planting event on the TU Event website. It will automatically post to the Council's website Event page.
Participating chapters will receive templates for posters, flyers, signs, press releases, and more to help assure success.
Possible reimbursement may be available for procuring seedlings and printing and mailing postcards.